If you want to spread network of your wordpress blog then you need to use an effective and valuable method named as Autoblogging. Autoblogging means to develop content for the blog automatically, in this case you have to make the content based on the content of some other website or blog though RSS feed.The whole process of autoblogging makes it very simple and easy to post interested news, quality articles, unique press releases, automated videos in your wordpress blog. You may easily post a variety of articles written on diverse subject and topics desired by the users on your wordpress blog by making little effort.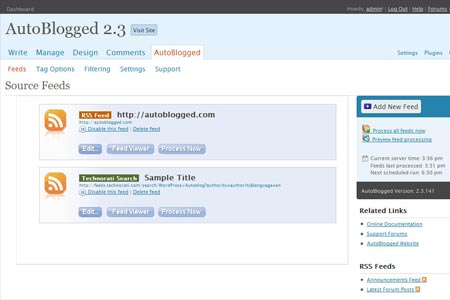 The method of Autoblogging is not complicated, you only have to take feeds from the different websites or blogs and then to post it on your blog. One thing which is very important to consider is not to forget to highlight the link of original source from where you take the articles in your wordpress blog. If you forget to mention the link of original source then it means you may violate copyright law _ a law that protects the right of an author so none can copy it. But when you make a legitimate use of articles then of course there is no liability or penalty on you part.
The advantage of Autoblogging is great because in this case visitors and readers can find a large variety of articles their frequent visit will enhance the traffic on the WordPress Blog. More traffic in the Worpress through Autobloggimg technique means an exceptional chance to make earn more.