January 25, 2010 – 8:27 pm | by Sonja Romnus
Advertisements
Looking for a phone that provides looks, function and really cool apps at the same time but doesn't cost as much as an IPhone?  The Samsung Exclaim is the phone for you!  With a sliding QWERTY keyboard, and the option to work from the number only pad with its dual slider option you'll find this phone provides the option to be a kid at heart as well as a professional.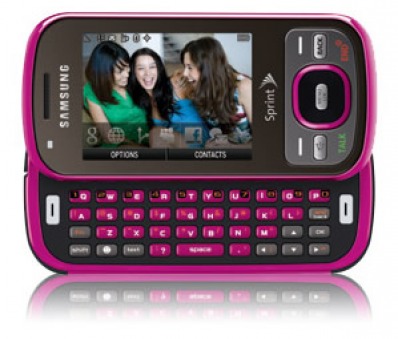 The Samsung Exclaim is full of applications and keeps you connected to social networking sites such as Facebook, Flicker, YouTube, MySpace allowing you to blog or just update your family and friends when you need to.  Its web enabled so you will be connected wherever you go whenever.  GMail, Yahoo, and Hotmail are a synch with POP3 or Outlook options at your fingertips.  Record a video, animate yourself, or make the most of any photo with the 2.2 megapixel camera or record 10 second clips via the camcorder you can customize.  Take advantage of the multimedia messaging at no cost to you; unlike most carriers that charge for these additional applications.
Need your hands?  This phone is Stereo Bluetooth Wireless enabled as well.  Listen to your music in a wide array of formats MP3, WMA, AAC and AAC+.  In addition to the above personal features and apps you will find yourself intrigued by the GPS turn by turn navigation feature.  Locate nearby businesses, or call directly to them from you phone with the click of a button.
Small enough to fit into your pocket, convenient enough with it's 320×240 resolution on a 2.6 in. screen the Samsung Exclaim is durable, functional, and likely to be on of your favorites to date.
Advertisements