May 27, 2010 – 9:49 pm | by omer
Advertisements
Apple iPhone 4G handset launch in June this year 2010 has been confirmed by AT&T the largest network provider company as they confirmed to theirs store managers about it. It is expected that Apple iPhone 4G will be introduced in the market by AT&T in the middle of June as according to Apple, the iPhone smartphone will be ready in the first week of June.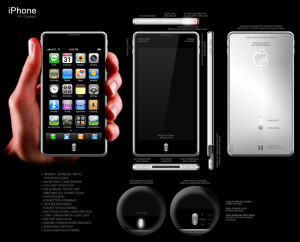 Latest Apple iPhone 4G comes with front facing camera for video conference, equipped with auto flash and larger lens for better photo quality.  It supports MicroSD card, Apple iPhone comes with metallic exterior and split side buttons for volume.  Phone is equipped with larger battery for long talk time and it has more square design with slightly smaller screen.  Apple iPhone 4G comes with different form factor as well.
One of the Apple iPhone sellers Wal-Mart suddenly cutoff the price of 16GB iPhone 3Gs for $97 and on the other side iPhone costs $199 through Apple.  It clearly indicates the arrival of latest iPhone in US market.
Advertisements