July 26, 2010 – 6:36 pm | by omer
Advertisements
BBC News app for iOS is available for the UK users after a long wait. BBC News app was expected to be launched in April 2010, but BBC News app released was delayed as free download BBC News app will damage the name of the company.  At last, BBC News app has been release for Apple iOS and is available for a free download.  BBC news app will soon available for Android and Blackberry smartphones, and expected to be available in the end of this year 2010.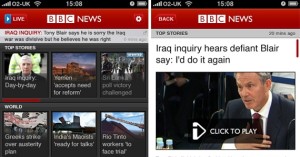 Download BBC News app is launched in the UK market for Apple iPhone and iPad iOS.  With BBC News app one can update on Apple smartphone with latest news and happening all over the world. Download BBC News app runs on iOS 3or later version of Apple iOS, and BBC app is not iOS 4 compatible.  Download free BBC News apps right now for Apple iTunes App store.
BBC News app is packed with the features like News by category including business, technology and entertainment, sports, One minute summary video, Twitter integration, Removed share bar in landscape mode, Disable full screen mode in iPhone, and Protection against low memory crash.
To download BBC Worldwide's BBC News, you need to have iTunes.

Advertisements