Motorola is going to launch one of stylish ever android base square shape phone in the market, named as Motorola FlipOut.  Motorola Flip out has been designed very professionally and it seems be more stylish and more practical as compare to the previous introduced square phones in the market.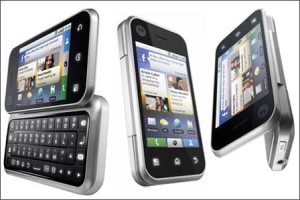 The Motorola Phone supports 2.8 inch TFT touch screen with 320 x 320 pixels. FlipOut Moto mobile includes 3.15 megapixel camera, USB port available, having internal memory of 256 MB extendable upto 32 GB with microSD card, processor upto 700 MHz and also embedded with GPS functionality.  It supports 3G network and Wi-Fi for internet and having QWERTY Keyboard having a d-Pad that makes the phone navigation easier for the users. Phone is designed for the music lovers as it has 3.5 mm audio jack and music player support all music formats like MP3/Wav/MP4.  Motorola Phone includes easy and fast access to the social networking apps like Facebook, Twitter and MySpace.  Motorola FlipOut will be available in three different colors Green, Black and Pink.
Moto has designed such a creative Android Phone that is embedded with all latest services and technology like document viewer, Voice memo/dial and lots of more remarkable features supported by the FlipOut Motorola phone. These features really force the customers to think to switch towards the android technology. Motorola phone has yet not announced any official date for the release of Motorola FlipOut but it is expected to launch Motorola Square phone in the end of June this year 2010.  No office price has been announced by Motorola (Moto).