January 6, 2011 – 6:28 am | by Emile
Advertisements
Kindle doesn't just provide eBooks for the Kindle Book reader device but it has been providing apps for several others as well. Recently the official Kindle app for Windows Phone 7 was released, it's now available for download in the Zune Marketplace.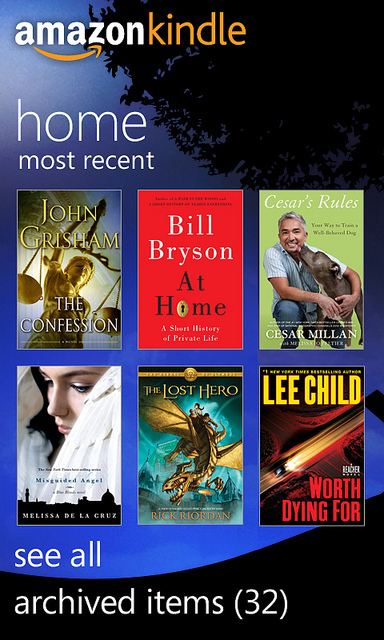 Some of the features of Kindle for Windows Phone 7 includes:
• Shop the Kindle Store for over 750,000* Kindle books, including New Releases and 107 of 111 New York Times Best Sellers. Over 550,000* of these books are $9.99 or less, including 73 New York Times Best Sellers.

• Choose from thousands of free classics, such as Pride and Prejudice or The Adventures of Sherlock Holmes.

• Get free book samples – read the first chapter free before you decide to buy.

• Customize your reading experience by choosing the background color, font size, and either portrait or landscape format.

• Personalized book recommendations on your Kindle app home screen and the ability to send a book suggestion to a friend from

any book in your library without leaving the app

• Simply tap on either side of the screen or flick to turn pages.

• You can also read your Kindle books on your Kindle, Kindle DX, PC, Mac, Android phone, iPhone, iPad and BlackBerry. Our Whispersync technology syncs your last page read, notes, bookmarks, and highlights across devices, so you can pick up where you left off.

• Selection and price of books in the Kindle Store may vary by country.
Kindle for Windows Phone 7 can be downloaded right now for free from Windows Phone 7 Marketplace.
Advertisements