November 22, 2014 – 10:23 am | by Ahmed
Advertisements
AMD made an important announcement at its Future of Compute event today. They are planning to introduce the consumer electronic industry's first-ever ultra high-definition (UHD) monitors which are be fully equipped with the company's innovative, open-standards based FreeSync technology. Samsung is going to bump its entire UHD lineup by launching the screen synching technology around the world in March 2015 which is going to start off with Samsung UD590 (23.6-inch and 28-inch models) and UE850 (23.6-inch, 27-inch and 31.5-inch models) and will ultimately be introduced on the entire lineup.
Dynamic refresh rates will be enabled by FreeSync which are going to be synchronized to the frame rate of AMD Radeon™ graphics cards and APUs. This is largely going to reduce the input latency and the good news is that the frequent visual defects which usually occur during gaming and video playback are going to be reduced considerably or will be eliminated altogether.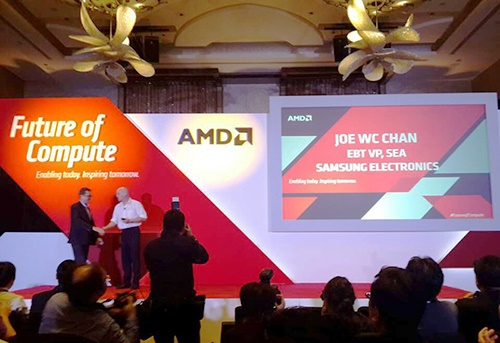 The President of Samsung Electronics Southeast Asia Headquarters, Joe Chan, said "We are very pleased to adopt AMD FreeSync technology to our 2015 Samsung Electronics Visual Display division's UHD monitor roadmap, which fully supports open standards. With this technology, we believe users including gamers will be able to enjoy their videos and games to be played with smoother frame display without stuttering or tearing on their monitors."
In addition to this, Capcom has announced that it is going to join hands with AMD on the AMD Mantle API which is going to help in enhancing Capcom's "Panta-Rhei" engine. This is going to enhance the gaming performance as well as visual quality for the upcoming Capcom game titles.
"This will improve the performance of our 'Panta-Rhei' engine, which was originally developed for console platforms," said Masaru Ijuin, technical director, Capcom. "Capcom is evaluating AMD's Mantle technology to help improve the graphics pipeline, and integrate it into 'Panta-Rhei' to provide outstanding benefits and impressive performance for gamers as well as the gaming developers."
Not to forget NVIDIA also came up with G-SYNC and was able to partner with companies like Acer and Asus and their monitors are available in the market for about a year now. Lets see if AMD can catch up with that and come up with some better results. Pricing for the Samsung displays have not yet been revealed but the existing model costs around $600 for the 28-inches model.
Advertisements