iPhone 6 Plus is a phenomenal device launched back in September 2014. Folks all around the world started camping outside Apple stores weeks before its launch. Millions of people woke up in the middle of the night to ensure their online order gets processed so that they can be among the first ones to receive brand new iPhone 6 Plus. Here is a detailed tutorial on how to setup your iPhone 6 plus, along with its activation without any hassle.
Back up your Old iPhone. It's important!
We are sure that you have real important data in your iPhone. Though, this part is not related to setting up your new iPhone 6 Plus, however, it is critically important that you back up your old iPhone in order to get your important data in your new iPhone without any hassle. Particularly, if you have been using iPhones old models in the past including iPhone 4, iPhone 4s, iPhone 5, iPhone 5S or iPhone 5C, you should perform the back up through iTunes.
Apple ensures that your data stays safe and backed up all the time. If you are an old iPhone user and are planning to sync your new iPhone 6 Plus with iTunes or iCloud, this is the most critical step for you to follow. Repeat steps mentioned below to back up your iPhone with iTunes or iCloud.
1: iPhone Back up through iTunes: Once your iPhone is connected and you have clicked on iTunes (incase it doesn't pop up by itself), click the 'Device' button, click This Computer on Backups Column, Select Backup Now
2: iPhone Backup through iCloud: This step does not require any connectivity with laptop. Simply go to the 'Settings' on your iPhone, select iCloud, select Storage and Backup, and then select Backup Now
3:Backup your iPhone with AnyTrans: AnyTrans is the best solution for those, who dislike iTunes due to certain complications. Simply launch AnyTrans on your computer, and connect your iPhone with your computer, select the content which needs to be backed up, Enter the manage page, select content, click to PC/Mac
Activate iPhone 6 Plus
Let's get started with iPhone 6 Plus activation.
Turn on your new iPhone 6 Plus handset and swipe your finger to the right in order to initiate launch setup assistance
Select your language and country
Select a WiFi network, which is important to have at the time of activation
Either select Disable or Enable for Location Services, the settings can be changed later as well
Last, set up iPhone 6 Plus
At this stage there are three options available for your iPhone 6 Plus setup. Set up your iPhone as a new iPhone, Restore from iCloud Backup service, OR Restore from iTunes Backup.
Setup as New iPhone
If you are planning to start fresh, without any previous data transfer from your old iPhone to new iPhone 6 Plus, this option is the best. You need to provide an Apple ID and in case you do not have one, then create one. Without Apple ID, you will not be able to make any purchases from Apple Store.
Restore from iCloud Backup
If your previous iPhone data has been stored on iCloud, you can simply select Restore from iCloud Backup. Follow the steps. Once you select Restore from iCloud Backup, Enter your Apple ID and Password, Agree to iCloud terms and services condition, select the latest back up made on iCloud
Restore from iTunes Backup
If you have been regularly syncing your old iPhone with iTunes on your computer or laptop, then you can restore your old backup on your new iPhone 6 Plus without any hassle. Select Restore from iTunes Backup, Select the desired backup from the menu, click continue to process further, select whether songs and videos need to be synced automatically, click done.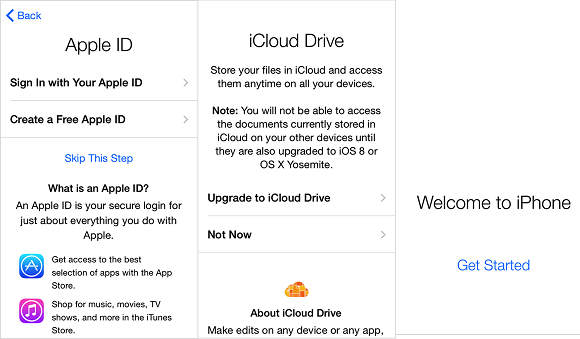 Once the restore is done through any of the above mentioned steps, you can proceed to the final stage of setting up your iPhone 6 Plus.
Once you have the network connection enabled, sign in your iPhone 6 Plus with Apple ID. If you do not have one, create one, so that you can make purchases on from Apple Store. If you decide to use iCloud services, Find My iPhone service will be activated automatically. In order to activate the Touch ID, place your finger or thumb on Home Button. This feature can also be setup later.
It is fairly easy to setup iPhone 6 Plus with the assistance of this step by step tutorial. There are a number of hidden features that you can use in order to make your iPhone 6 Plus work efficiently.