May 2, 2015 – 9:23 am | by Ahmed
Advertisements
Apple has made it fairly simple for its customers to remove just about anything from their Mac. Uninstalling programs on Windows is often performed through Programs & Features, which frequently leads to some survey sites to inform the reason regarding the removal of application/software.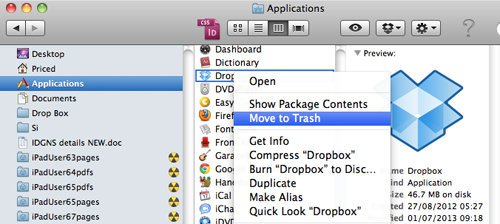 It is not a complicated process to delete apps from your Mac. Apple has ensured to introduce fairly easy steps to perform simple tasks. For example, if you want to erase a program like VLC player installed on your Mac, simply follow the following steps:
Find out the folder Applications

Look for

 

VLC player

Please ensure that the program is closed properly.

Drag the desired icon to trash

Depending upon the permission, you may have to enter the password

After the program is moved to the trash, empty the trash can.
You are done!
What if you have to delete the registry?
The excellent feature about Mac OS is that there is no existence of registry. The preferences are usually stored in Preferences folder. Each program carries a text file after installation, which is also called Plist (Property List). The text file of any specific program is not a very heavy file, it is usually in kbs. However, its up to you if you really want to delete that file.
Kernel Extensions:
Kernel extensions are mandatory files for your Mac to operate so they should not be removed unless and until you are 100% sure about what you are doing. Kernel extensions are available at /System/Library/Extensions and the extensions are .kext. Drag the file to the desktop and delete the original .kext file. Restart the system to see if everything runs fine.
Delete Apps in Bulk:
In order to delete the programs in bulk, simply download the program AppCleaner which is available for free. A light sized application which enables you to delete programs in bulk.
Delete using Command Line:
Click on Applications

Go to Utilities

Click on Terminal

Type the following command:

sudo uninstall file://

The next step is to drag the application icon to Terminal Window. This will display the path on the command line. After you drag the application icon to Terminal Window, the command prompt will appear as follows:

sudo uninstall

file://Applications/vlc.app
Garage Band
Garage Band takes a huge amount of space on your hard drive. Since it's a program used for music related editing, its obvious that it covers a massive space. The program can be deleted through drag and drop method, however, back up is highly recommended.
iMovie & iPhoto
These two programs can be deleted using drag and drop method, mentioned earlier.
Advertisements