October 25, 2016 – 6:21 pm | by Steve
Advertisements
In much the same way taking screenshots has become such a norm nowadays – recording videos from your screen is heading in that same direction. It is easy to see why more and more people are starting to record videos from their screen, as aside from its most common use in creating video guides or tutorials – it also can be used to save online video streams, Skype calls, or capture live events.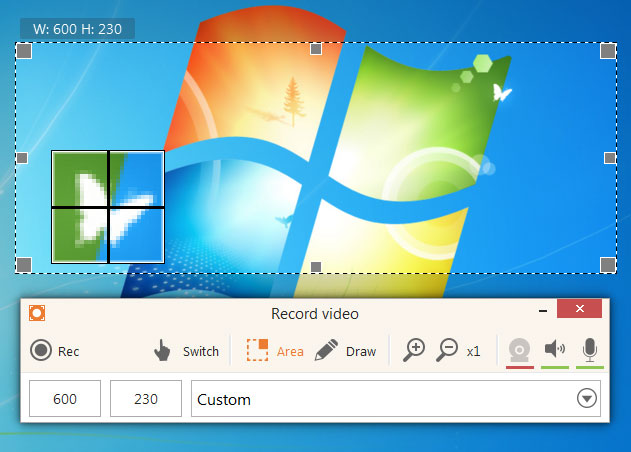 Of course in order to start recording what's on your screen you will need a screen recorder (also sometimes known as screen capture software). As you can probably guess that is precisely what Movavi Screen Capture is: A tool to help you record computer screen and save it as a video.
Start Recording in a Few Clicks
If you've never used a screen recorder in the past it is understandable that you may be concerned that it will be difficult and complex. The good news is that Movavi Screen Capture is neither – and actually goes to great lengths to make certain it is intuitive and easy to use.
On the whole you will find that the user interface of Movavi Screen Capture is simple, clean, and easy to navigate. More importantly all the options that you need will be just a click or two away – and you can actually start to record your screen by simply selecting the area that you want to record and clicking on the 'REC' button. After that you can sit back and manage the recording with the hotkeys that are available – or set the timer so that it is automatically stopped after a certain duration.
Set Up the Recording to Any Specifications
Assuming you want to exert more control over the video that you record, you can configure the settings in Movavi Screen Capture to match any specifications. In fact as you explore its capabilities you'll be able to:
Define the capture area by resizing and positioning the on-screen frame or using one of the presets in the dropdown menu.
Select a desired frame rate of up to 60 frames per second for the highest quality and smoothest playback – or less than that to reduce the file size and conserve space.
Choose to record audio from one or more sources, including the system audio, or external devices such as a microphone or MIDI device.
Control the sound levels of the audio that is being recorded.
Show, hide or highlight the mouse cursor depending on how visible (or invisible) you want it to be.
Set a custom 'click' sound and adjust its volume to make it more audible.
Display any keys that are pressed within the capture frame so that they will be recorded.
Depending on your needs Movavi Screen Capture could either be a tool to quickly grab videos from your screen, or one that you set up to record a very specific type of video. In either case, it won't take you long to become familiar with its features and capabilities – and then put them to good use.
Advertisements