December 4, 2017 – 2:21 pm | by Steve
Advertisements
Despite the availability of wireless technology, many people still prefer a wired connection over the use of WiFi. While being wireless is the latest trend these days, there are still certain situations in which a cabled connection to your router is still the way to go. QacQoc knows this that is why they crafted innovative technology to meet the growing demands of consumers who love using an Ethernet connection.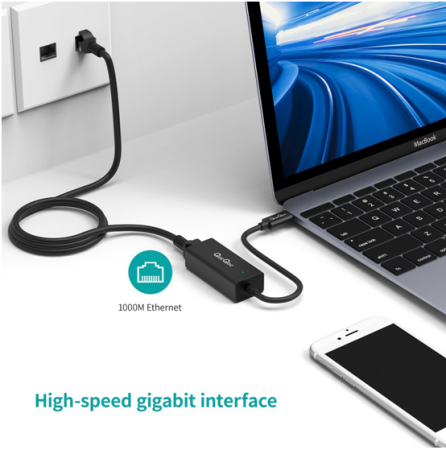 What is Ethernet Adapter?
This hardware connects a computer to a local network or the Internet via a wired connection. Many of computers today feature an Ethernet pot on the motherboard and don't need a separate adapter. However, some laptops support WiFi connections only. In such situations, buying and installing a separate Ethernet adapter is important. It will change how you work by improving the connection. It is a great option to have especially if you are a heavy internet user.
For desktops or laptops that don't have an Ethernet port, buying an Ethernet adapter that connects externally is a good idea. Macbook computer, on the other hand, support a Thunderbol Ethernet adapter. Make sure to get the right one to avoid any hassles and inconveniences. Compatibility and finding the right item is really important.
With more people who still opt for this kind of setup when connecting to the internet, different brands and manufacturers are now making a variety of Ethernet adapters. This makes it quite tricky for some to find the best one on the market.
If you're one of those looking for a premium quality Ethernet adapter, QacQoc introduces some of its latest products. For your guide, here are some of the best QacQoc Ethernet adapters you can choose from.
GM40L Aluminum USB Type C to Ethernet Adapter
Use this USB Type C port to add network connectivity to your laptop or computer. It is compatible with various computer brands and products. It doesn't require external power or installation of discs. Just plug your device in the hub and enjoy its functions. It's as easy as that!
Design and Features
LED Indicator that verifies the status of data transfer and network connectivity
Slim and Compact, so you can easily and comfortably take it anywhere you go
Stable Gigabit Ethernet
Comes with a reversible connector
Worry-free 12-month warranty
QA-A01E2 USB 3.0 to Ethernet Adapter
Enjoy amazing speed and endurance when your wireless connectivity is unreliable with this Ethernet adapter. It allows its users to take full advantage of fast, reliable and smooth access to the internet at speeds of up to one Gbps through the port.
Design and Features
Supports up to one-thousand Mbps connectivity
High speed USB 3.0 to Ethernet Network adapter
No installation necessary. Just plug your device and enjoy its features
Stable Gigabit Ethernet and universal compatibility
Slim and Compact for your convenience
LED indicators
Supports a huge variety of systems
QC-A06E Aluminum USB TYPE C To Gigabit Ethernet Adapter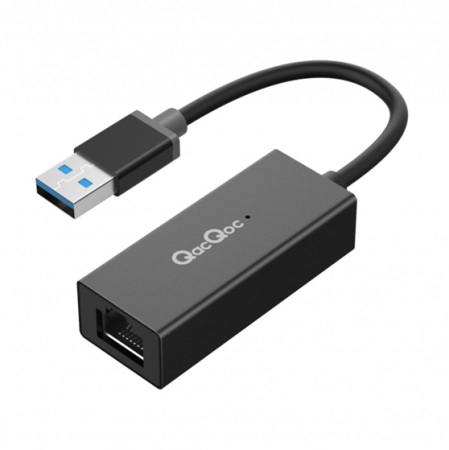 Thus USB type C to gigabit Ethernet adapter allows you to improve or add network connectivity to your laptop or computer. It allows large downloads with amazing speed and without interruptions. You no longer have to worry about over-extended and inconsistent wireless connectivity. You can enjoy long hours of video streaming without issues.
Design and Features
Supports 10/100/1000 Base-T network, allowing you to meet your specific needs
Requires neither external power nor installation discs to work
Groundbreaking double-sided USB C connectors that simplify the cable connection
Offers flexibility to connect with your favorite devices with no hassle
Three Ethernet Adapter Features Difference Conclusion
These Ethernet adapters are amazing and remarkable in their own rights. Though they may the same features and functions, they all differ in USB connection. USB is the standard when it comes to connectivity. Over the years, the standards in relation to USB connections have changed, resulting to further technology development and innovation. These three Ethernet adapters have different USB connections, name USB type C and USB 3.0.
Conclusion
When it comes to offering high-end Ethernet adapters that will allow you to improve your web browsing experience, QacQoc has a lot to offer. With its powerful technology, you no longer have to worry about slow wireless connections and enjoy a speedy connection. These Ethernet adapters may have a lot of similar features, but they all have unique characteristics that make them in demand in today's market. Look out to these products the next time you find yourself searching for high quality Ethernet adapters.
Advertisements