Yes indeed! The title says it all. SanDisk, a major player in the flash memory market, is planning to manufacture a music player for the new slotMusic format. What is this slotMusic business you say? Well its a new format developed (by SanDisk) to increase sales of music and songs on tangible media. Still no idea what we are talking about? Read on…
In recent years, there has been a steady trend of falling sales for CDs and DVDs containing music and songs for various reasons (amongst them purchases of music being made on the internet and the increase of piracy). To counter this (and to make lots of money while they are at it), SanDisk launched a new format called slotMusic. This is essentially a microSD card with music/songs on it. Already they have garnered support from many major music groups such as EMI, Sony BMG, Universal Music Group and Warner Music Group. This format is planned for launch in the upcoming holiday season.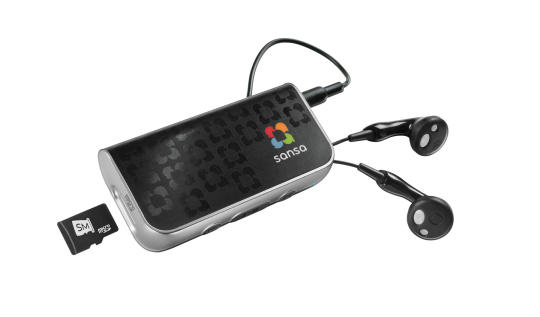 Anyone who uses mobile devices such as cell phones, gaming consoles like the PSP or PDAs should know how microSD cards work. Not only does it work with these devices, many laptops also have in-built support for microSD and one can always buy USB devices that let you transfer data to and from SD cards. So we have established that SD cards have widespread compatibility and are easy to use and therefore there is a high probability that many people who listen to music would prefer the slotMusic format. Also because SD cards are far more robust than CDs and DVDs.
So SanDisk have a format that is very likely to work. They now plan to sell the SanDisk Sansa as well, a music player especially developed for the slotMusic format. Now this player is really weak in our opinion, it does not come with a rechargable battery. It plays only MP3s and WMA without DRM and has support for microSDHC and that is it. That is all it does. Why not just use your laptop (and transfer the music to your regular on-the-go music device if it does not have microSD support) or cell-phone?
A slotMusic card should cost around $14.99 and the slotMusic player is set to sell for around $19.99 when it is finally released.