Apple has launched its Hi-Tech gadget named as iPhone that is famous for its wonderful features and functionalists. The iPhone enables the user to enjoy his life in a unique and different manner. Apple introduces a number of apps and services for the fun and facilitation of iPhone users and among this iPhone conference calling is the great option to consider.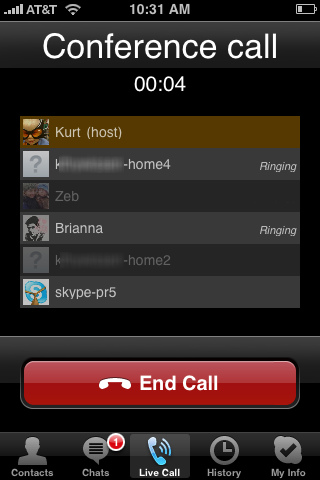 Through conference calling application of iPhone you can arrange a meeting of almost five different people. It means you are free to switch to this app and then call your friends and buddy to join you in this conference. Great!
The iPhone user only has to schedule outbound conference call on his device. He can select the persons to whom he want to discuss and they will join you in the conference without any difficulty.
How to make Conference call on iPhone;
Here are some simple steps by following these step you can start conferencing calling on the iPhone.
Step#1
First of all turn your iPhone on and make the first call to your selected person.
Step#2
You see the "Add Call" button on the stylish screen of your iPhone, press this button slightly. By doing this your first call will be on the hold for some time. In the mean time you are free to speak with second person privately because after this call will merge and you may not get a chance of privacy.
Step#3
Now you can call other person in the same manner .It may happen some times that someone is calling you when you arrange a conference. In this situation don't worry, just put other calls on hold and then choose "Answer" from your handset to receive incoming call.
Step# 4
It is the time when you have to select "Merge Calls" option so that conference call starts up.
Step #5
Once you enjoy conference call on iPhone then you really want to know how to end conference call. This is very simple, you only need to tap the "Conference" button and then pick 'red phone symbol' next to contact of person you want to drop from call. After that select "End call" option to drop all from the conference.
Step #6
If you want to talk one-on-one with any participant of conference then it is also possible. For this purpose you have to first select 'Conference' button, choose Private next to that person .Lastly press the Merge call button once you free from private call and thereby you will return to the iPhone conference call again.